Prevention is the first step to getting and maintaining a beautiful, healthy smile. Your oral health is closely linked to your body's overall health, so Drs. Mindy and Peterson, along with the entire Cornerstone Family Dentistry team, strive to provide total dental care to patients of all ages, from basic exams and cleanings to more extensive restorative work.
Preventive Services
Bi-annual Exams & Cleanings
It's important to visit the dentist for routine dental exams and cleanings every six months, so we can keep your teeth healthy and catch any issues before they become serious. When you come in for these appointments, we clean your teeth to remove tartar and plaque, polish them to remove any stains, and check your gums to detect any problems. At the end of your appointment, you'll leave with your teeth feeling fresh and your smile shining!
Oral cancer is highly treatable when caught in the early stages, and that's why we make sure to screen for it with our patients. During oral cancer screenings, we examine your mouth and the palpitation of your jaw and neck, so that we can increase your chances of curing the illness by detecting it early.
We offer fluoride treatments to help your teeth fight decay and maintain strong enamel. Fluoride is a naturally enriched mineral that does wonders in keeping your teeth clean, and with this treatment, you're getting a much higher density of it than you would with toothpaste.
Sealants provide an extra layer of protection to the surfaces of your back molars, keeping food particles out of the gaps and grooves and preventing cavities from forming. Overall, they're a great way to prevent future tooth decay!
Nightguards & Athletic Mouthguards
Whether you grind your teeth at night (a condition called bruxism) or you play contact sports, we can provide mouthguards to protect your teeth against damage from grinding, clenching, and injury. For both nightguards and athletic mouthguards, we make sure to custom fit them for maximum comfort.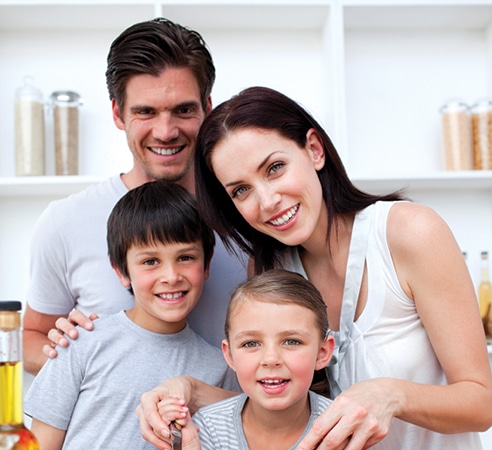 Periodontal Care
Your gum health is vital to your oral and overall health, too. If you have gums that are red and inflamed, or that bleed when you floss or brush, you might have gingivitis, a mild form of gum disease. Wondering how to cure gingivitis? Visit Cornerstone Family Dentistry for a thorough cleaning and tips on getting and keeping your gums healthy!


Call Cornerstone Family Dentistry today to schedule your preventive appointment.
Children's Dentistry
Whether a patient is 1 or 101, we go out of our way to provide the best dental care possible. Yes, that even includes our youngest patients! When you're looking for a children's dentist, it's important to find professionals who can provide the care they need in an environment that isn't stressful or scary. Our entire team has a friendly, gentle manner that kids love, and we do our best to calm kids' nerves (parents' nerves, too!) and help them have a positive experience in our office. Good experiences at the dentist from a young age encourage people to care for their teeth for a lifetime.
Download Our Kids Coloring Pages
Let us help your child build a foundation for a lifetime of beautiful smiles.